Outback Steakhouse Review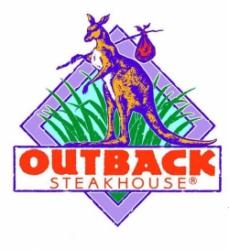 Are you looking for places to eat in Southern Utah? Craving fresh hot off the grill fish, chicken, or steak? The Outback Steakhouse chain is well known for their quality food. The Outback Steakhouse in St. George offers this same quality menu, food, and service.
Conveniently located in the Zion Factory Outlet strip mall, just off I-15, the Outback Steakhouse serves flavorful steaks, chicken, and pastas with an Australian "down-under" theme. This restaurant is part of a popular chain that receives recognition and praise throughout the United States. Choice cuts of meat are delicately seasoned, grilled to your specifications, and served with delicious sides and a hot bread loaf. The overall quality of food is consistently great. Plus, some fantastic signature menu items served amidst a fun "outback" environment make the Outback Steakhouse an enjoyable place to have lunch or dinner.


The Outback Special is the restaurant's signature sirloin, seasoned with bold spices, seared to perfection, and served with two freshly made sides. It can also be ordered with your choice of grilled shrimp on the barbie or gold coast coconut shrimp. Another popular menu item, the Alice Springs Chicken, features a tasty 5 ounce chicken breast topped with bacon, honey mustard sauce, sautéed mushrooms, Monterey Jack and Cheddar, and is served with Aussie fries.


In addition to specialties, the Outback Steakhouse serves flavorful soups, salads, and appetizers. They also offer outstanding burgers and sandwiches that are popular choices during the lunch hours. Plus, the restaurant creates some irresistible desserts, including a new your style cheese cake, and the Chocolate Thunder from Down Under, a pecan brownie crowned with rich, vanilla Blue Bell ice cream.


With the slogan "No rules, Just right," the restaurant promotes a casual atmosphere. However, the dimmed lighting and professional service create an ambiance that works for either an elegant evening, or a night out with the kids. Menu items are priced moderately, and served in generously sized portions. Lunch plates start at $7.50, and dinner at around $12.00. Great food and service, in a fun atmosphere make the Outback Steakhouse a desirable dining experience.
Location/Contact Info