Cafe Rio Review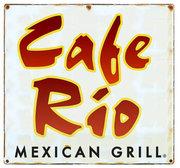 Looking for mexican food in St. George? Cafe Rio is a local favorite for Mexican cuisine, where you can watch your food be prepared right in front of you. The Cafe Rio chain was founded right here in St. George Utah. Read this Cafe Rio review for information on menu, location, pricing, service.
With award winning Mexican food that can only be described as addictive, Cafe Rio serves unique, fresh, and flavorful meals, with the finest ingredients available. Recipes are inspired from traditional cooking found in the Rio Grande regions of Northern Mexico, and have caused Southern Utah to be a hot spot for good Mexican food. Located conveniently off the St. George Boulevard, Cafe Rio grills savory, high quality meals that should be experienced by everyone.


The restaurant features tasty tortillas, made from scratch and hand rolled, in an open kitchen, where guests can watch their food being prepared. Meats are USDA choice quality, seasoned and marinated to perfection, while the sauces, salad dressings, salsa, and guacamole are prepared in house daily. No microwaves or freezers exist in the restaurant, only high quality fresh ingredients that are created to order.


Their popular shredded pork burrito is more than a pound of food, with well prepared Spanish rice, some of the finest cheeses, and your choice of beans and a flavorful hot, medium, or mild sauce. Another great meal, the Cafe Rio salad, is built atop a steaming hot hand tossed tortilla, and topped with beans, rice, fresh pico, sour cream, guacamole, various cheeses, fried tortilla strips, and their signature tomatillo ranch dressing. For desert, some Mexican classics promise an indulgent treat, with tres leche as a popular choice.


As you walk in the door at Cafe Rio, the aromas of the open kitchen entice the appetite, while the old Mexico décor helps to authenticate the experience. Dining at this restaurant is very casual, as meals are ordered, prepared, and served, while patrons wait in a quick moving line. Portions are generous, with prices starting around $7.00-$10.00 and specials running everyday. Overall, Cafe Rio raises the standards for Mexican cooking, with freshness and taste built into every quality recipe.
Location/Contact Info