Bear Paw Cafe Review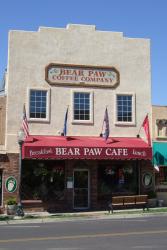 Looking for a unique breakfast or lunch spot in St. George? The Bear Paw is a locally owned and operated restaurant, and a favorite of St George residents. This Bear Paw Cafe review offers information on location, menu, atmosphere, pricing, service, and more.
Serving some of the best breakfast and lunch in St. George, the Bear Paw Cafe provides a pleasant dining experience with an atmosphere that is reminiscent of small town charm. Centrally located, on historic main street, the restaurant has become a celebrated tradition of locals, as well as a popular attraction for visitors. Amongst white linens, fresh flowers, and a rustic native American theme, a friendly staff serves some spectacular breakfast/lunch specialties that add to the exceptional character of this establishment.


The breakfast menu choices at the Bear Paw are endless, with everything from Grandma's oatmeal to three different styles of French toast. Every meal is served fresh, and meets a standard of quality that is unmatched. Their flavorful Belgian waffles are a house specialty, made extra thick and served with your choice of toppings. Plus, the restaurant always has a fresh brew of Allegro coffee, some of the world's best.


For lunch, the Bear Paw's menu includes mouth watering burgers, delightful salads, Alaska style baked potatoes, and over a dozen options for specialty sandwiches. Their famous Italian Paninis are made on a delicious focaccia bread, and topped with a home made pesto, feta, fresh vegetables, and their special blend of house oils. The artichoke heart with sun-dried tomatoes and the bear paw combo are among the guest's favorites.


The Bear Paw Cafe serves breakfast and lunch until 3pm daily, and is open 365 days a year for your convenience. Patrons enjoy quality meals that won't break the budget. Delicious breakfast and lunch specialties, in a setting of casual elegance and charm, make the Bear Paw Cafe a desirable place to dine.
Location/Contact Info