Hilton Garden Inn St. George Review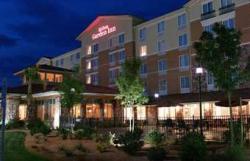 Are you looking for a hotel package in St George? The Hilton Garden Inn, part of the HiltonHonors program, may be a good hotel choice. This Hilton Garden Inn St. George review offers information on hotel amenities, conference center, dining, fitness center, and more.
This is a newer hotel for St. George and it is nestled in with beautiful red cliffs and lava ridges. The location right off of I-15 is great for travelers and very easy to find. Being close to the interstate means easy access to all the great destinations around the St. George area.


Guests will enjoy superb accommodations. Each room is spacious and state of the art and include fridge, microwave, hair dryer, ironing board, iron, alarm clock, mp3 player, Neutragena bath items, Sleep System beds, large desk with ergonomic desk chair, free wireless internet, and much more. Some rooms come equipped with sofa sleepers to provide space for more guests. Guests can use the network to print from their own rooms. A newspaper will be delivered to your room each morning.


With the great St. George weather you can enjoy the heated outdoor pool and hot tub all year round. If you have forgotten anything they have an in house convenience store. For lounging they have a great place with a full bar and great dining. There is on site laundry (coin operated), fitness center, business center, and meeting rooms. There is a pool table to enjoy and for kids there are video games.


Hilton Garden Inn is an ideal place to hold any large gathering. There is more the 4,000 square feet available for your needs. Catering is available and on site with menu selections for every budget. This hotel is very close to the local convention center as well which is convenient for business needs or special occasions. The hotel even works alongside the convention center to give guests a great experience. The hotels conference center can accommodate 10 to 500 people.


The hotel has a restaurant that serves breakfast daily with a children menu and high chairs are available. Airport shuttle service is available as well as free parking.


The staff is multilingual and friendly. The hotel offers safe deposit boxes, baggage storage, a gift shop, an activity and recreation desk, lounge, fax, printing services, valet laundry service, and room service available from 5 pm to 10 pm.


Group rates are available as well as vacation packages to offer guests considerable savings. Special packages include "Escape to Zion" which includes your room, breakfast and trips to Zion National Park. "Movie and a Pizza" which includes your room, a fire grilled pizza and an in room movie. "Double Points or Double Miles" when you can double your HHonors when you stay on certain dates. A romance package and museum package are among others that are offered. Not only do these packages interesting activities but they are a great value.
Location/Contact Info