Southern Utah Hiking Review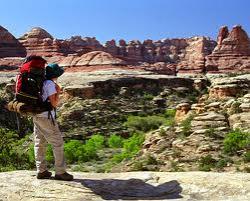 Looking for things to do in Southern Utah? How about hiking? Southern Utah is known around the world as one of the finest hiking areas! With the beautiful scenery, challenging stone cliffs and wonder of the changing landscape it is no wonder that hikers come back time and again.
Southern Utah Hiking
Arches National Park - This beautiful park full of arches has hiking trails suitable for anyone's ability. There are more than 2,000 arches to discover here and the trails are wonderful. Some of the most popular hiking trails in Arches National Park are: Dark Angel, Double O Arch, Fiery Furnace, Park Avenue Trail, Skyline Arch, Landscape Arch, Navajo & Partition Arches, Tapestry Arch, and many more! Arches National Park is located close to Moab, Utah. Some hikes require a reservation and/or special gear. Please contact the park services at 435-719-2299.

Antelope Canyon - Chances are that you have seen spectacular photography or artwork of Antelope Canyon at some point. This breath taking canyon is park of the Navajo Parks and Recreation Department. The Department offers guided tours of the canyon and information can be found by calling 928-698-2808. While this canyon is located in Arizona we thought it worth your time since it is such a short drive from Southern Utah. There is no overnight camping in the canyon so please make other arrangements if you stay in that area.

Zion Narrows - This is Zion National Parks most popular hiking trail. You do have to register with the park to go through the Narrows. This trail has a few options. You can do a day hike (top to bottom or bottom to top) or you can do an overnight hike from the top to the bottom. It is intense and you should be prepared for swimming and hiking through deep water at times. Having the proper equipment is a must. You will also want to make sure you check weather reports for possible flash flood warnings. The Narrows will be an experience you will never forget and it is a must see for avid hikers who visit our area.

Grand Staircase-Escalante National Monument - The Escalante River offers a variety of great trails that lead to the water. The landscape will make you a lover of this area. It is truly unforgettable. This area is another that will have you checking flash flood warnings. You will also want to be prepared for swimming or hiking through water as you go through different trails. To obtain back country passes you will need to contact the BLM (Bureau of Land Management) office at 435-644-4300.

When hiking in Southern Utah and its surrounding areas you should make sure you have plenty of water and sunscreen. The BLM and other park services ask that you check to see if fires are permitted or not. We have very dry seasons and the area is at risk for fires caused by lightning and of course accidents. Latrine holes need to be at least 6 inches deep and all hikers should carry a litter bag for all trash. Most hiking trails do not have bathrooms or trash along the way so please be prepared.

Safety is key when hiking anywhere but our weather conditions make it necessary to drink more water than normal while hiking when it is warm out. Even when you are not feeling thirsty you need to drink because you will be at increased risk for dehydration.
Location/Contact Info