Sand Hollow State Park Review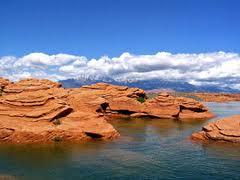 Sand Hollow State Park is one of several State parks located in the Southern Utah area. This Sand Hollow State Park review offers information on several outdoor activities available at Sand Hollow including hiking, camping, boating, picnics, sand dunes, and more.
Before the incredible reservoir was made, Sand Hollow was a popular spot for those that love the sand dunes. Still now, people come from all over to ride 4 wheelers, dirt bikes and dune buggies. Children love playing in the soft sand. Now, with the reservoir added there is more than ever to enjoy.

Sand Hollow State Park is located between Hurricane and St. George, Utah. The beaches have camp sites and picnic areas nearby. The scenery here is unparalleled. With red cliffs, majestic mountains, lava rock and more it is a feast for the eyes.

For the lover of fishing there are plenty of fish to be caught. The most popular fish are the blue gill and the bass. You can fish from many spots on the waters edge as well as from your boat. The docks make getting your boat in and out of the water exceptionally easy.

To camp right on the beach with no amenities on site is just $15 per night. For camping in the main campground with hookups and services it is just $25 (some campgrounds cost more or less) per night. For those just visiting for the day that may want to picnic or use their watercraft there is a $10 day use fee. Keep in mind that the park gates are open between 6 am to 10 pm. They are closed from 10 pm to 6 am so please make sure you plan accordingly. Annual passes are

To get to Sand Hollow State Park from I-15 you take Exit 16 (going toward Hurricane, Utah). Travel east on Highway 9 for about four miles and turn right on Sand Hollow Road. Just a few miles down the road (about three) and you will come to the park entrance on your left. If you keep going you just drive around the reservoir but will have to turn around to get back to the entrance.

While staying at Sand Hollow State Park you have the convenience of a WalMart that was just built. It is right on Highway 9. There is also a gas station/mini mart close by. There are hotels as you exit the freeway and then further up Highway 9. There is also a bowling alley nearby for added recreation. The Southern Utah region is full of great things to do and see. Sand Hollow is a great central location to many great sights.

Zion National Park is less than one hours drive from Sand Hollow State Park. Other great places to visit that are within a one hours drive are Gunlock Reservoir, Quail Lake, Red Cliffs, Pine Valley Campground and reservoir and Snow Canyon State Park.
Location/Contact Info