Zion National Park Review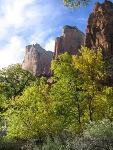 Zion National Park offers many outdoor activities for visitors to St. George and Southern Utah. This Zion National Park review offers information on the Zion Park visitors center, hiking, biking, climbing, camping, and nearby lodging, shopping, restaurants, and more.
Zion National Park is one of the most beautiful of all National Parks and draws visitors from all over the world. The park is open every day of the year. Depending on the season some services may not be available but there is always much to see and experience.


The Visitors Center is open daily except for closure on December 25th. Hours of operation are seasonal. Spring hours are 8 am to 5 pm, summer hours are 8 am to 8 pm, fall hours are 8 am to 6 pm, winter hours are 8 am to 5 pm.


Inside of the Visitors Center you will find the Backcountry Desk (you will need to visit this desk before hiking in certain areas). Hours for the Backcountry Desk are as follows:

January 1st to April 24th - 8 am to 4:30 pm

April 25th to May 27th - 7 am to 6 pm

May 28 to September 6th - 7 am to 6 pm

September 7th to October 24th - 7 am to 6 pm


Zion is a great place for back country experiences. Visitors enjoy hiking, canyoneering, climbing, boating and more. The park recommends that you plan well and make sure you have all the gear that you need. The Backcountry Desk and the park website have documents to help you in your planning. Pets and bicycles are not allowed in the back country. Fires are also prohibited. If you plan on using water craft please check with the staff as some types are not allowed.


The Zion Narrows is a popular hiking destination for visitors to the park. It is recommended that you watch the weather reports carefully as flash flood warnings may be issued during the summer months. The Virgin River runs through making a spectacular canyon. The "Narrows", as locals call it, is not for the beginner hiker. More than half of the hike is spent in water either wading, walking or swimming. Elements vary throughout the Zion Narrows so you should have the right equipment and be prepared for a challenge as well as the most beautiful scenery you have ever seen. If you are considering this hike you will want to contact the park before hand for specific instructions.


Zion National Park offers three different campgrounds. During the summer months these campgrounds are usually full every night so it is highly recommended that you make a reservation if you want to guarantee a spot. You can drive to each campsite and two vehicles are allowed per site. Overflow parking is available in each campground. Every site allows for six people and two tents maximum. Campers must check out on their last day by 11 am.


All campsites have tables and fire pits with a grill attached. The campgrounds are equipped with flush toilets and drinking water. There are no electrical outlets in the campgrounds. The camp provides quiet hours from 10 pm to 8 am and pets are allowed but must be on a leash.


In the nearby town of Springdale you will find pay showers, market, laundromat, small medical facility, firewood and restaurants along with wonderful shops.
Location/Contact Info