Snow Canyon State Park Review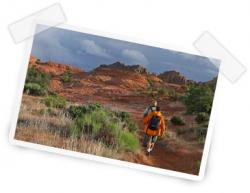 If you are looking for inexpensive or outdoor things to do in St. George you may want to consider Snow Canyon. Snow Canyon State Park is an amazing Southern Utah state park that offers a variety of history, sightseeing, picnic, hiking, climbing, and camping opportunites.
Set in majestic Southern Utah, Snow Canyon State Park is a place you will want to visit while in the area. The park is 7,400 acres filled with lava and sandstone which make for great contrast. Guests will fall in love with the tall cliffs and the sand dunes. The landscape changes throughout the park and provides a variety that you will not find elsewhere.

Snow Canyon State Park is loved by locals and visitors alike for rock climbing, hiking and camping. This park is very popular with photographers. The play of light in the park throughout the day makes for spectacular photography. There is a five mile long equestrian trail and a three mile walking/bike path.

Snow Canyon officially became a State Park in 1958. The park was originally named Dixie State Park but was later renamed after two well known figures in Utah history â€" Lorenzo and Erastus Snow. Historians have found that the area was inhabited early on by Anasazi and Paiute Indians. Then the are was found by Mormon pioneers in the 1850's.

According to the park website, Snow Canyon has been featured in movies such as: Butch Cassidy and the Sundance Kid, The Electric Horseman and Jeremiah Johnson.

The landscape of the park is a geologists dream. With red rocks, sandstone, lava and more there is a rich history found in the rocks and sand. The plant life is also extraordinary. The park only gets about 7.5 inches of rainfall a year. You will find plants such as the creosote bush, sage, scrub oak, yucca, desert willow and more.

The park is lucky to have so much wildlife. Snow Canyon is park of the Red Cliffs Desert Reserve which protects the endangered desert tortoise. Besides the tortoise you may find animals such as the kit fox, coyotes, roadrunners, quail, tree frogs, lizards and leopard lizards. These are just a few of the great desert animals that inhabit the park.

The park sponsors some unique activities. There are guided hikes, sunset hikes, moonlight hikes, scorpion searches, Gila monster searching, lava tube discovery, and more. These events are frequent and because of the wonderful weather in Snow Canyon they are able to run events year round.

The park is open to the public daily all year. Hours are 6 am to 10 pm. Camping is available and some sites have water and electricity hookups. The park offers day rates as well as group rates on certain areas. The following fees are as stated on the Utah Park's website:

Visiting for the day:

$6 per car (up to 8 people allowed)
Annual passes for $75 are available at the park
Pedestrians/Cyclists pay $4 per individual
Pedestrian/Cyclist annual pass available for $24

Camping Overnight:

Without hookups is $16/night, with hookups (water, electricity) $20

Day use for groups:

$75 flat fee for Galoot Group Area with a minimum of 25 people and maximum of 50. This has limited parking.

Overnight groups:

Two group sites are available. The Cottontail group area will provide for 25 to 32 people and up to 6 cars. The Quail group area will provide for 25 to 50 people with up to 20 vehicles. The rates for these sites is $3 per person in addition to a refundable cleaning deposit to the park.
Location/Contact Info