Promenade at Red Cliffs Review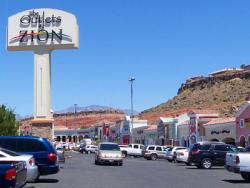 Formerly known as Zion Factory Stores and Promenade, the Promenade at Red Cliffs is part of the Outlet at Zion stores. Shopping the outlet stores in St. George is a great way to save. This Promenade at Red Cliffs outlet mall review includes store, restaurant, and hotel information.
The Promenade at Red Cliffs was established after the Outlets at Zion and is located directly across the street. This location makes shopping so convenient for everyone.


The Promenade includes the following restaurants:

Red Lobster - great seafood with daily specials.
Chuck a Rama - great for the whole family because everyone can get exactly what they want.
Panda Express - tasty Chinese food that is quick and easy. Ideal for take out or for eating in their restaurant or on their patio.
Durango's - Fun Mexican style with a fresh taste and exciting atmosphere.
Samurai 21 - Japanese Steakhouse and sushi. Enjoy Habachi style grilling, sushi, and Japanese entrees.
Cold Stone Creamery - A must have during our warm summer months. All shoppers will appreciate Cold Stone for helping them to cool off!
Chili's - this is a neighborhood restaurant that serves ribs, burgers, chicken, some Mexican style dishes and they have a full bar.

All restaurants are smoke free to make your dining experience more enjoyable. Come have a bite to eat and take a break from all that shopping!


Stores at the Promenade area are a great asset to our community.

Big 5 Sporting Goods offers all of your sporting goods as well as hunting and camping gear. They cater to the local sports seasons and have a great athletic shoe department with weekly specials to hep you save. Big 5 even has wake boards and snow boards. With skiing so close to our area this is a great asset.
Staples is an enormous office supply chain. They have all you could need for your business or convention needs as well as back to school supplies, day planners and even your tech gadgets. They offer professional printing that is done in house so if you need something quickly this is an ideal place to come for help.
Old Navy carries the latest fashions that are fun for all ages. The best part is that they offer these great styles at the most affordable prices. Our Old Navy store is quite large and offers departments for everyone. They are located between Staples and Cold Stone Creamery.
Sally Beauty Supply offers beauty supplies for the beautician as well as the rest of us. If you are looking for high quality brands and a knowledgeable staff this is a great place!
Popcorn Depot is your one stop shop for everything popcorn!!! From air popped corn to flavorings to put on your snack you will find all that you could possibly imagine. This is a fun store to just come in and browse around. It's amazing to see all that they have.

Set right in the middle of the Promenade is a beautiful fountain surrounded by tables with chairs and park style benches. There are also planters to provide some cooling atmosphere. Visitors like to sit out have their meals or let the kids play around the fountain.


The Promenade offers ample parking and is located right next to America's Best Inn & Suites. These are all visible right from I-15 so finding what you want is no trick at all. The best part is that you can walk right across the street and enjoy all that the Outlets at Zion have to offer. Shops like Polo, Eddie Bauer, Izod, Mongolian Barbecue, Outback Steakhouse, Skechers, The Children's Place, Gymboree and more!
Location/Contact Info