Amazing Remodeled Home!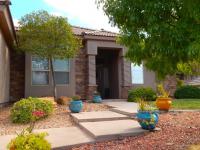 Lovely remodeled home in great location. Beautiful, private back yard with water feature and nicely landscaped. 4th bedroom can be formal living, den or whatever. Quartz tops in kitchen and baths, updated and new master bath. No expense was spared.
Property Details
Type:
Single Family
Neighborhood:
Green Valley/West SG
Price:
$349,900
Year Built:
2003
Square Feet
1896
Bedrooms
4
Bathrooms
2
Garage Capacity
2
Features
Fireplace(s): 1; Bath, Sep Tub/Shwr; Ceiling Fan(s); Dishwasher; Disposal; Fireplace, Gas; Home Warranty; Landscaped, Full; Patio, Covered; Sprinkler, Full; Walk-in Closet(s); Window, Double Pane
Acres
.20

CLICK HERE to Request Info on this Listing!
Mortgage Calculator
* Loan information is approximate only. Actual information may vary. Tax is based on .75% per year / Mortgage insurance is based on .90% with 5% down. If down payment is greater than 5% your payment would decrease. With down payment of 20% or greater the insurance would not be charged.
Location Map